1 Year Access
Online: Videos
Online: Workbook
Forum Membership
Transcription Book

Wired for Healing

$249.95 USD
Online Course Access
+ Wired for Healing
1 Year Access
Online: Videos
Online: Workbook
Forum Membership
Transcription Book

Wired for Healing
$269.95 USD
+ Shipping & Handling
Online Course Access
+ Transcription Book
1 Year Access
Online: Videos
Online: Workbook
Forum Membership
Transcription Book
Wired for Healing

$299.95 USD
+ Shipping & Handling
Online Course Access
+ Transcription Book
+ Wired for Healing
1 Year Access
Online: Videos
Online: Workbook
Forum Membership
Transcription Book
Wired for Healing
$315.95 USD
+ Shipping & Handling
---
Accepted Online
*Our Online Ordering System accepts payment by Visa, Mastercard, or American Express. Debit/Credit are not accepted. Prices are in U.S. dollars.
International Orders do not include duties or taxes your country may charge.
To order by phone: 1-866-867-4850
Our phone ordering system accepts payment by Visa, MasterCard or American Express. Please note that this number is strictly for placing orders. For general inquiries call: 1-800-947-9389

All orders are processed immediately. You are required to set up a user account to gain access to the course.
---
Shipping info for all packages:
Due to COVID Protocols, please note each shipping provider we work with, USPS and DHL, may have additional delays and will affect the arrival of your order. Please note we are seeing an increase in shipping delays for all International and Canadian orders.
As of October 19, 2021, our fulfillment centre is running on time with processing all orders. 
Shipments within the US see USPS Updates HERE
Shipments outside of the US see DHL Updates HERE
Regular Shipping Times: All orders are processed within two business days and include a tracking number once the order is shipped. All orders are shipped from Michigan, US and they are generally delivered within 5-7 business days. Canadian orders can take 5-10 business days. Overseas orders can take 10-15 business days.
An expedited 2-3 business day shipping service, weather permitting, is available for US orders to a home residence. This option is NOT available for delivery to a PO box address. COVID Protocol delays will apply.
Please note for International orders, your package will be traceable through DHL until it reaches the destination country. You can continue to track your package through your country's postal service at that time, using the same tracking number. Delivery times to countries outside of North America can vary, and does not include duties or taxes your country may charge.
Purchase of any Online Course package entitles the purchaser to one membership only on the community forum and access to purchase individual coaching with our Certified DNRS Coaches or participate in our 12-week LIVING DNRS group support series. Confirmation of purchase is required.
Due to high demand, availability can be limited. Please book in advance to ensure you are getting the support you need. Upon completion of purchase you will receive an email with a link to the calendar to book your session.
---
We recognize the challenges that accompany chronic health conditions and are pleased to make this program available to you in the comfort of your own home. Those who implement the program on a consistent basis report a substantial improvement in their quality of life within six months. The results simply speak for themselves.
DNRS™ Online Course
Annie Hopper, founder of the Dynamic Neural Retraining System™, personally guides you step-by-step through the science of neuroplasticity, limbic system impairment, the understanding that is necessary for this program to work for you, and the tools for recovery. The online course explains the science behind the program and demonstrates the exercises and knowledge necessary to rewire the limbic system and regulate an unconscious maladapted stress response, which is at the very root of many chronic conditions. The course includes an online version of our Student Manual Workbook embedded seamlessly into the web pages alongside the videos and other course tools. This product is intended for adults only.
---
Supplementary Resources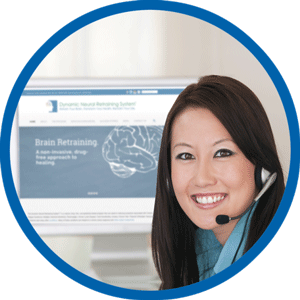 Individual Coaching. This is a great resource to pair with the instructional videos. Individual coaching sessions with a Certified DNRS Coach can provide clarity on program concepts and how to tailor the program for your individual needs.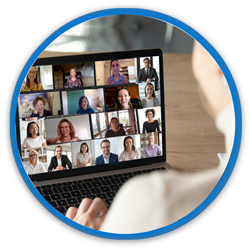 LIVING DNRS 12-week support series. If you would benefit from added accountability, connection and guidance, then consider joining a group of DNRS peers in our 12-week group support program led by our certified LIVING DNRS facilitators.
Global Community Forum. Become a part of our DNRS global family and participate in our moderated, private community forum. This extensive resource is filled with invaluable information for applying the program, inspiration, motivation and group support from fellow DNRS peers.
The Book – Wired for Healing by Annie Hopper (founder of the Dynamic Neural Retraining System): If you are eager to learn more about Annie's story and the science behind the program, this book is for you. Annie also explains how and why she developed the program and shares a number of inspiring stories of recovery.
The Transcription Book: This is a word-for-word document of the 14-hour instructional video. It is an additional learning tool if you like to highlight important sections that you can reference later. This is also a great starting point for those who have severe EMF sensitivities. Please note that the Transcription book may differ slightly from the contents of the online videos.
---
DNRS™  Life Improvement GUARANTEE
If, after six months of daily training of the Dynamic Neural Retraining System™ (DNRS) program, you have received no value from our 14 hour Instructional Video Series, we will issue a full refund (less shipping, handling & 15% return fee).
Before requesting a refund, we highly recommend that you reach out to receive support with implementing the program. Learning anything new can be difficult and frustrating when doing it on your own. This is why we have a number of support services in place to assist you in your recovery process, including basic access to our Global Community Forum and additional features like A Deeper Dive into DNRS, Individual Coaching, 12-week group support classes (LIVING DNRS), and Share-a-Laugh classes. We sincerely want you to succeed and we are here to support you every step of the way!
If you have purchased the DVD series, please return the DVDs in their original case, along with the used Student Manual. If you have purchased the On-Line Video Series, please complete the product return form.
Please note that the book "Wired for Healing" is not eligible for refund.
Products will be accepted for refund only if: (a) returned items include all of the product components (b) Product Return Form has been completed and submitted (c) Product is returned after six months from date of purchase and within one year (365 days) of purchase date.
If you would like to receive a refund, please contact us at info@retrainingthebrain.com and we'll provide you with instructions and our return form. Please note that we do not replace lost, stolen products, or ones that have been damaged in your care.